Dr. Stephen Brandon
A Love of Serving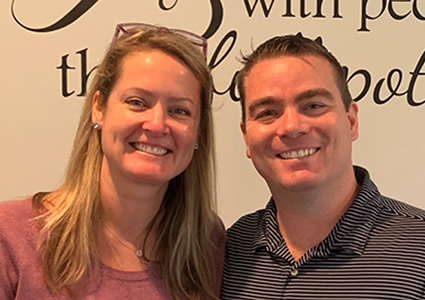 Since Dr. Steve's teenage years, his goal was to touch the lives of others. Though he considered law school, his heart wasn't in it. A conversation with his father reignited the idea of chiropractic school. He decided to take the plunge and attend, enrolling at New York Chiropractic College. "I didn't choose chiropractic. It chose me. I was built to be a chiropractor!"
While attending school to earn a Doctor of Chiropractic, there were numerous moments that impacted Dr. Steve. One of his instructors, who was teaching how to adjust, said, "Who can do this?" Like a scene from a movie, the instructor pointed at Dr. Steve and said, "He can." The student on the adjusting table was Shelley Crombach, now known as Dr. Shelley. It was Dr. Steve's first successful adjustment and his favorite one to this day.
Understanding the Full Picture of Health
During these years, Dr. Steve took the time to study all things natural, including emotional health, mindset, bodywork and nutrition.
I love providing a spark for people. My intention is that this is the best part of someone's day or even week. I love being able to care for, root for, encourage, lift up, celebrate and grow with some really wonderful people.
To continue providing the best care, Dr. Steve regularly attends courses and seminars. He is certified in the Webster Technique for pregnancy and has spent many hours studying pediatric care Thompson Drop Table, upper cervical care, Chiropractic Biophysics. He is also a member of the ICPA.
EXPLORE CHIROPRACTIC »
Outside of the Office
In their spare time, Dr. Steve and Dr. Shelley loves to read, create amazing food from their huge garden, eat and enjoy all things Italian and boating on Lake Champlain.
Call or email us today to set up your first appointment! We have same-day visits available.
---
Dr. Stephen Brandon | (802) 985-9500